Appreciate our quality journalism? Please subscribe here

The "independent review" of disgraced consultancy PwC fails to name a single person involved in any wrongdoing — and confirms the probe was hamstrung by PwC from the outset.
Review author Ziggy Switkowski reports it was not his job to "assess how the breaches occurred", how they "persisted uncorrected for such an extended period", or "whether appropriate disciplinary actions have been taken".
"Importantly, the Review…was specifically not tasked with undertaking an analysis of the cause of the now infamous breach of confidentiality by a tax partner and various failures that followed, or with determining accountability for any of those breaches or failures," writes Switkowski.
Instead, PwC Australia itself has provided a separate document it has prepared, which it calls "PwC Australia's Statement of Facts" — and has announced the investigation "is now complete".
"We can now provide a complete and holistic view of what happened, and what went wrong," PwC Australia CEO Kevin Burrowes announced in an "open letter" today.
Yet the "Statement of Facts" from PwC is comprised almost entirely of information that was already in the public domain.
It names a handful of former partners – Tom Seymour, Peter Collins, Michael Bersten, Pete Calleja, Paul McNab, Neil Fuller — yet all have been previously named.
Please DONATE HERE to help keep us afloat!
The "statement of facts" also fails to make any mention of the scandal outside Australia, despite the involvement of PwC partners and officials across the globe.
On June 23, six weeks after PwC announced the "independent review" by Switkowsi, The Klaxon revealed PwC was refusing to reveal its "terms of reference", the instructions and parameters for the review.
In late July, in response to questions taken "on notice" at a NSW parliamentary inquiry, PwC was forced to hand over the terms of reference – revealing Switkowski would look at nothing that occurred before his May appointment.
Those "terms of reference" are included as an appendix to today's Switkowski report.
Marked "confidential", they state the Switkowski review "is to be completed by reference to the point in time at which the Expert (Switkowski) commences their fieldwork".
That nobbling of the "independent review" was despite PwC having announced in May that Switkowski was "to address issues identified by the Tax Practitioners Board's investigation into the firm's use of confidential tax policy information".
PwC had further stated, on May 15, that Switkowski's appointment was part of PwC's "process of addressing the unauthorised sharing of confidential tax policy information".
In a further act of secrecy regarding the Switkowski review, PwC initially said it would only reveal a "summary" of the findings, but facing extreme criticism it later said it would release the findings in full.
That was before it was revealed the disgraced consultancy was refusing to release the "terms of reference" – and it was known the Switkowski review would not look at the tax leaks scandal in any event.
Please DONATE HERE to help keep us afloat!
PwC gleaned top-secret Australian Government information while providing "advice" on new laws to stop multinationals avoiding Australian tax — and sold it for millions of dollars to multinationals seeking to avoid Australian tax.
Despite the illegal activities dating back to at least 2014, the scandal remained secret until it was forced into the public arena in January by little-known agency the Tax Practitioners Board (TPB).
The TPB had taken action against one of those involved, PwC partner Peter Collins, who it banned from practicing for two years.
On May 2 a heavily redacted 144-page cache of internal PwC emails from 2014-2018 was released by the Senate inquiry into consultancies.
It shows scores of PwC partners in Australia and around the world discussing the scam, including emails to PwC employees in the UK, Ireland and US praising the "accuracy" of information from Collins.
After downplaying the scandal for months, PwC Australia, on May 8 announced the departure of its CEO Tom Seymour.
It has announced the departure of 12 partners and staff in connection to the scandal, including Collins.
In its "response" to Switkowski's "independent review" — which examined nothing before May this year — PwC Australia said it would apply some Australian Stock Exchange principles, including appointing two directors and a chair to its board.
PwC is a "partnership", rather than a company, which requires a board, and it is not listed on the ASX.
PwC said it would also publish audited financial statements — in two years' time, from September 2025.
The PwC Australia "statement of facts" says that in May PwC engaged three law firms to provide it with "privileged" — meaning PwC can keep it secret — analyses of the matters.
Those firms were King & Wood Mallesons (engaged by PwC Australia); Linklaters (engaged by "PwC International"); and Allens (also engaged by "PwC International").
"PwC International initially engaged Allens to review PwC Australia's historical governance and risk management structures, including the TPB findings," the document says.
"The scope of Allens' work was subsequently expanded to a joint engagement with PwC Australia".
"The 2023 Investigation is now complete, and PwC Australia has identified the persons who engaged in wrongdoing, the confidential information that was improperly shared, and the governance failings that allowed the breaches to occur and go unaccounted for as long as they did," PwC says in its statement of facts.
BEFORE YOU GO! Help
us stay afloat and telling these stories. P

lease SUBSCRIBE HERE or support us by making a DONATION. Thank you!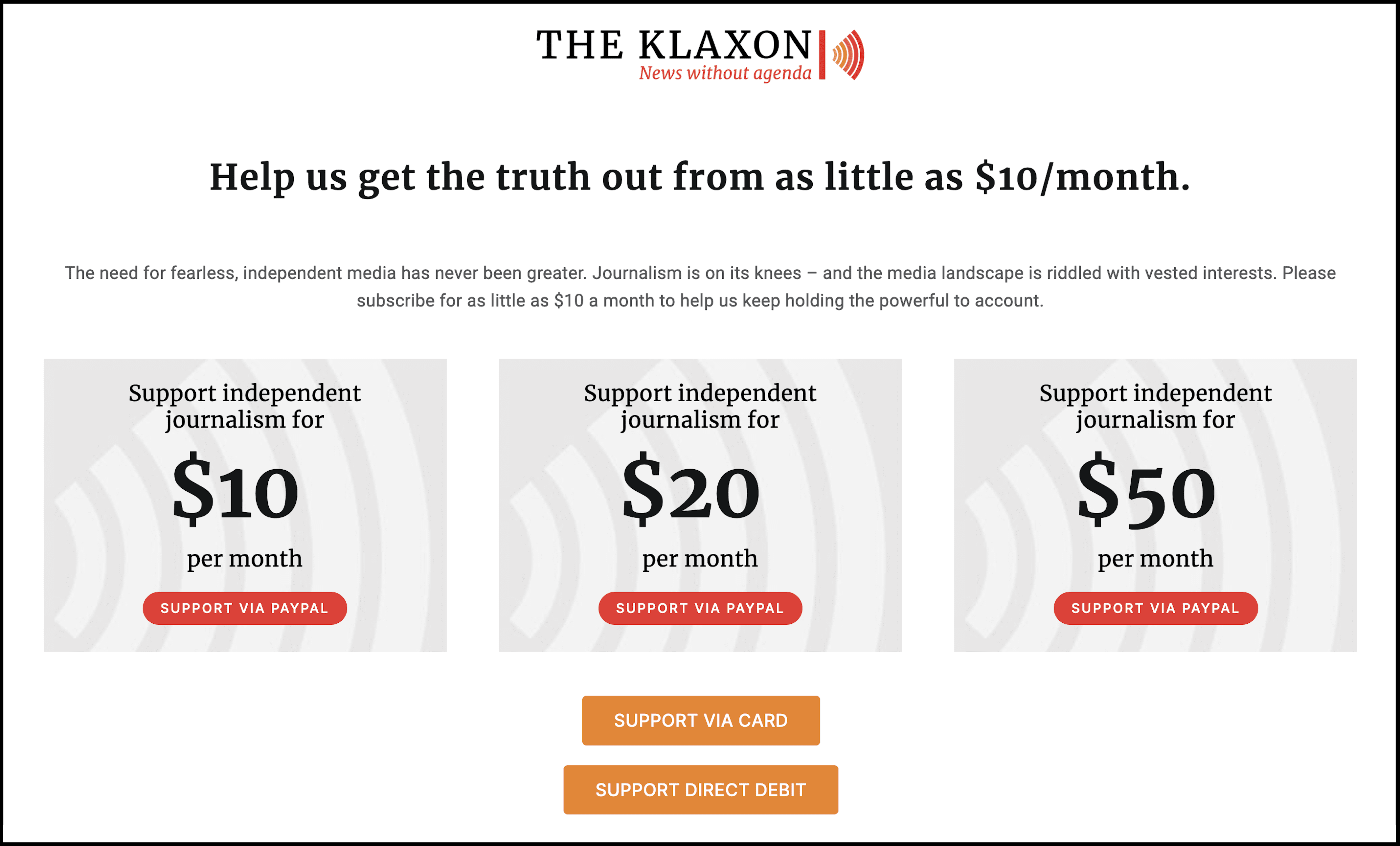 BEFORE YOU GO! Help
us stay afloat and telling these stories. P

lease SUBSCRIBE HERE or support us by making a DONATION. Thank you!
Anthony Klan
Editor, The Klaxon

Help us get the truth out from as little as $10/month.
The need for fearless, independent media has never been greater. Journalism is on its knees – and the media landscape is riddled with vested interests. Please consider subscribing for as little as $10 a month to help us keep holding the powerful to account.