Appreciate our quality journalism? Please subscribe here

A 22-year-old former public servant and Young Liberal who almost overnight became one of the nation's most "successful" political lobbyists has been dumped by almost all his clients amid an anti-corruption scandal.
Dylan Whitelaw set up lobbying firm Macquarie Advisory Group late last year after working as a "senior advisor" to former NSW Planning Minister Anthony Roberts, and within weeks disclosed a string of major property clients.
Despite his firm having no telephone, website or office, Whitelaw was hired to "lobby" the NSW Government by ten different companies, including Sydney commercial building company J Group and UAE-based developer Arada, run by Sheikh Sultan bin Ahmed Al Qasimi and Prince Khaled bin Alwaleed bin Talal.
Others included western Sydney land developer Dartanyon, property developer Pacific Community Housing, Pacific Planning, and construction waste recycling group KLF Holdings.
In a spectacular reversal of fortunes, it can be revealed all but one — a company called Hanmari Pty Limited registered in Sydney's Parramatta — has hit the exits.
Please SUBSCRIBE HERE and support our quality journalism
The mass exodus coincides with the launch of a major corruption probe by the NSW Independent Commission Against Corruption (ICAC) — and follows Whitelaw "disappearing" and refusing to front a NSW parliamentary inquiry earlier this year.
None of Whitelaw's clients have been named as being involved in any wrongdoing.
Whitelaw is alleged to be a key figure in a secretive fundamentalist Christian group within the NSW Liberal Party, the "NSW Reformers", allegedly created to influence "public policy", including by stacking local councils.
Other members of the far-right "NSW Reformers" allegedly included two of former NSW Premier Dominic Perrottet's brothers, Charles Perrottet and Jean-Claude Perrottet, and Liberal powerbroker Christian Ellis.
In June last year NSW Liberal MP Ray Williams raised allegations senior members of his own party had been paid "substantial amounts of money" by property developer Jean Nassif to fund the 2021 stacking of Sydney's Hills Shire Council, to get projects approved.
Nassif — whose Toplace property development empire has since collapsed owing $600 million — has denied the allegations.
A NSW upper house inquiry was launched in December last year, with the scandal erupting in February and March, after it launched a state-wide manhunt to locate a string of witnesses who refused to appear, including Whitelaw, Jean-Claude Perrottet and Ellis.
The inquiry was expected to relaunch after the March 25 NSW election, however on Sunday April 16, NSW Premier Chris Minns, whose ALP was swept to power after 12 years in opposition, confirmed the ICAC had launched a major probe.
"At the request of ICAC, the government will not be proceeding with a public inquiry into the Hills Shire Council at this stage as it may impact on an investigation being conducted by the commission," said a statement from his office.
Earlier that day it was reported the ICAC had raided the homes of up to five past and present Liberal Party members, seizing laptops and phones.
The Melbourne home of Charles Perrottet and his wife Anita was confirmed to be among those raided.
The spectacular implosion of Whitelaw's career as a political lobbyist — less than six months after hanging up his shingle — kicked off the next day.
"The spectacular implosion of Whitelaw's career as a political lobbyist kicked off the next day"
On Monday April 17, Whitelaw updated the NSW Lobbyists Register to show his clients Arada, J Group, Pacific Community Housing and Pacific Planning had all become "inactive".
Weeks later he reported clients KLF Holdings and "Mr George Scalia" had also become "inactive".
On September 10, Whitelaw disclosed Dartanyon was also no longer a client.
That same day, the sole employee of Macquarie Advisory Group, other than Whitelaw himself, was also recorded as having left the company.
(The register shows Ronan Greene, "Adviser – Government Relations", had been appointed to the company on January 8.)
Whitelaw refused to say if his home had been among those raided by the ICAC when contacted by The Klaxon.
He asked for questions in writing, which we provided, but then failed to provide any responses.
Whitelaw, Charles Perrottet and Jean-Claude Perrottet wrote to the NSW upper house inquiry denying any wrongdoing.
Please 

SUBSCRIBE HERE 

and support our quality journalism
In relation to its probe, and at its request, the ICAC was in August granted an exemption from the Surveillance Devices Act, until December 2015, allowing it to listen to conversations it had obtained that had potentially been illegally recorded.
"ICAC has obtained certain evidence which appears to be records of private conversations made by a third party," Attorney-General Michael Daley told NSW parliament.
The NSW Liberal Party moved to block the change but was unsuccessful.
The NSW upper house inquiry, which was forced to wind up ahead of the March 25 election, found eight witnesses — including Whitelaw, Charles Perrottet, Jean-Claude Perrottet and Christian Ellis — had made "deliberate attempts" to avoid giving evidence.
Taxpayers were charged thousands of dollars to fund an unsuccessful state-wide man hunt for the men in a bid to force them to appear under threat of arrest, in what inquiry chair, NSW Greens MP Sue Higginson, described as "unprecedented" and "extraordinary".
"The lack of cooperation from key witnesses in this inquiry means the serious allegations of corruption by members of the Liberal Party in the Hills Shire have gone unanswered," Higginson says in the final 495-page report.
"Their co-ordinated, deliberate and serious efforts to evade scrutiny inevitable leave the perception that there is something to hide".
It was revealed Christian Ellis, to avoid being "served", allegedly hid out in the remote Barmah-Millewa Forest, on the NSW-Victorian border, with one witness telling the inquiry he had been spotted in a vehicle wearing a "black ski mask".
In February NSW Liberal Party figure and businessman Frits Mare gave sworn evidence that Jean-Claude Perrottet and Ellis had approached him in around 2019 seeking $50,000 for a "branch stack" operation to "revenge unseat a sitting member of parliament".
Mare said he rejected the request and "terminated the conversation".
On August 27, Ellis was expelled from the Liberal Party for "bringing the party into disrepute", which came at the same time as his involvement in failed in a bid to unseat Deputy Liberal Leader Susan Ley and replaced by Jean Haynes.
Ellis had been appointed to the NSW Liberal State Executive, the governing body of the NSW Liberal Party, in 2019. Whitelaw was also appointed to the NSW Liberal State Executive in 2019 and is Secretary of the Mittagong branch of the Young Liberals.
Key to the scandal was three highly detailed dossiers handed to the NSW upper house inquiry.
The dossiers are of unknown origin but outline in high detail the alleged operations of the NSW Reformers, including the alleged involvement of Whitelaw, and examining the relationships between Nassif's Toplace and developments in the Hills Shire, in Sydney's outer north-west.
At the council's December 2021 elections six Liberal councillors, including long-time mayor Dr Michelle Byrne, were ousted after being secretly "disendorsed" by the Liberal Party at state level.
The dossiers, tabled by the inquiry, shed considerable light on the clandestine NSW Reformers, including its use of former Prime Minister Tony Abbott and shock jock Alan Jones to recruit members.
It was allegedly created in 2018 by Ellis to "reform this great state" of NSW, including by having hard-right policies around abortion "reflected in public policy".
"On starting NSW Reformers, Christian's intention was to see the NSW Reformers act as a voice within the Liberal Party to work as a unite and coordinated Christian voice," says one deleted webpage.
"For years we have seen the slow erosion of (Christian) values, which has in turn effected (sic) the rights of everyday Australians in areas such as faith, life and speech".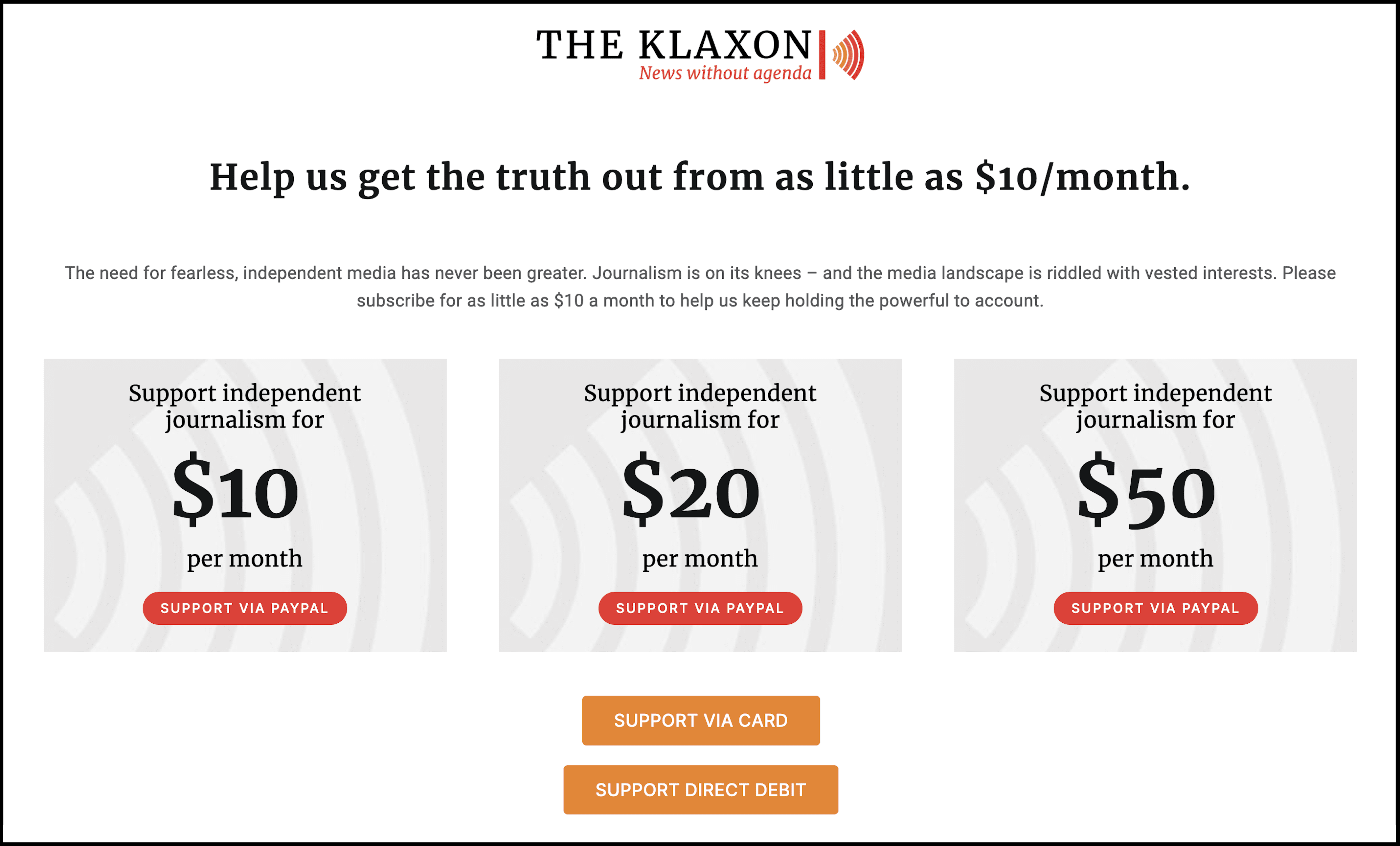 Anthony Klan
Editor, The Klaxon

Help us get the truth out from as little as $10/month.
The need for fearless, independent media has never been greater. Journalism is on its knees – and the media landscape is riddled with vested interests. Please consider subscribing for as little as $10 a month to help us keep holding the powerful to account.