Appreciate our quality journalism? Please subscribe here

Former US President Donald Trump allegedly shared potentially sensitive information about US nuclear submarines with Australian billionaire Anthony Pratt, who allegedly then shared the information with dozens of others.
In a major scandal, Pratt allegedly gleaned the information from Trump in April 2021, and shared it with "at least 45 others", including "six journalists" and "three former Australian Prime Ministers".
The cardboard billionaire — who is a major "donor" to Australia's major political parties — also allegedly shared the information with "10 Australian officials" as well as "11 of his company's employees".
The "potential disclosure" of US nuclear submarine secrets was reported to the team of US special counsel Jack Smith, as part of their investigation Trump's alleged hoarding classified documents at his Mar-a-Lago resort in Florida.
The details are from an exclusive report by the US ABC News network, which reports Pratt has been interviewed twice by FBI agents this year, and that the "potential disclosure" occurred during a visit by Pratt to Mar-a-Lago in April 2021, months after Trump lost power.
It says Pratt allegedly told Trump "he believed Australia should start buying its submarines from the United States".
Trump then allegedly responded by sharing top-secret information about its submarines, "the supposed exact number of nuclear warheads they routinely carry" and "exactly how close they supposedly can get to a Russian submarine without being detected".
The US ABC News reports: "In emails and conversations after meeting with Trump, Pratt described Trump's remarks to at least 45 others, including six journalists, 11 of his company's employees, 10 Australian officials, and three former Australian prime ministers, the sources told ABC News.
"While Pratt told investigators he couldn't tell if what Trump said about U.S. submarines was real or just bluster, investigators nevertheless asked Pratt not to repeat the numbers that Trump allegedly told him, suggesting the information could be too sensitive to relay further, ABC News was told."
The ABC News reports the episode has been investigated as part of the probe into Trump's alleged hoarding classified documents at Mar-a-Lago.
The explosive revelations come as US officials raise concerns over the proposed $80 billion deal to sell Australia submarines with US and UK technology, as part of the AUKUS security pact.
The AUKUS — Australia, UK, US — pact was announced September 2021 — five months after the alleged disclosure by Trump to Pratt at Mar-a-Lago.
It is the most significant pact between the countries   — who are three of the five members of the so-called "five eyes" intelligence network — in decades.
One of Trump's former Mar-a-Lago employees allegedly told US investigators that "within minutes of Pratt's meeting with Trump" the former employee "heard Pratt relaying to someone else some of what Trump had just said".
"According to the sources, the former Mar-a-Lago employee also told investigators he was "bothered" and "shocked" to hear that the former president had shared such seemingly sensitive information to a non-US citizen," the US ABC News reports.
In June, following action by US special counsel Smith, Trump was charged with 40 counts of "unlawful retention" of "national defence information and obstruction-related offences".
Trump's alleged sharing of the information with Pratt was not included in Smith's June indictment of Trump.
The US ABC News reports Pratt joined Mar-a-Lago in 2017.
"Over the next few years, Pratt visited Mar-a-Lago about 10 times, interacting with Trump on several occasions, once even having dinner with Trump and a U.S. senator at another Trump-owned property nearby, Pratt told investigators, according to sources".
"Pratt also visited the White House in 2018, when Trump was meeting with Australia's then-prime minister, according to online records."
The US ABC News reports:
"In 2019, speaking at the opening of a Pratt Industries plant in Wapakoneta, Ohio, Trump called Pratt a "friend" and praised him for funding the plant.
"We're here to celebrate a great opening and a great gentleman," Trump said. "Anthony is one of the most successful men in the world — perhaps Australia's most successful man.
"Standing beside Trump, Pratt then said he "would not have invested in this plant if it wasn't for President Trump's election, [which] has given us an incredible faith in investing in America.
"But in recent months, according to sources, Pratt told investigators that he now supports the current U.S. government, describing himself as someone who tends to just "side with the king".
More to Come…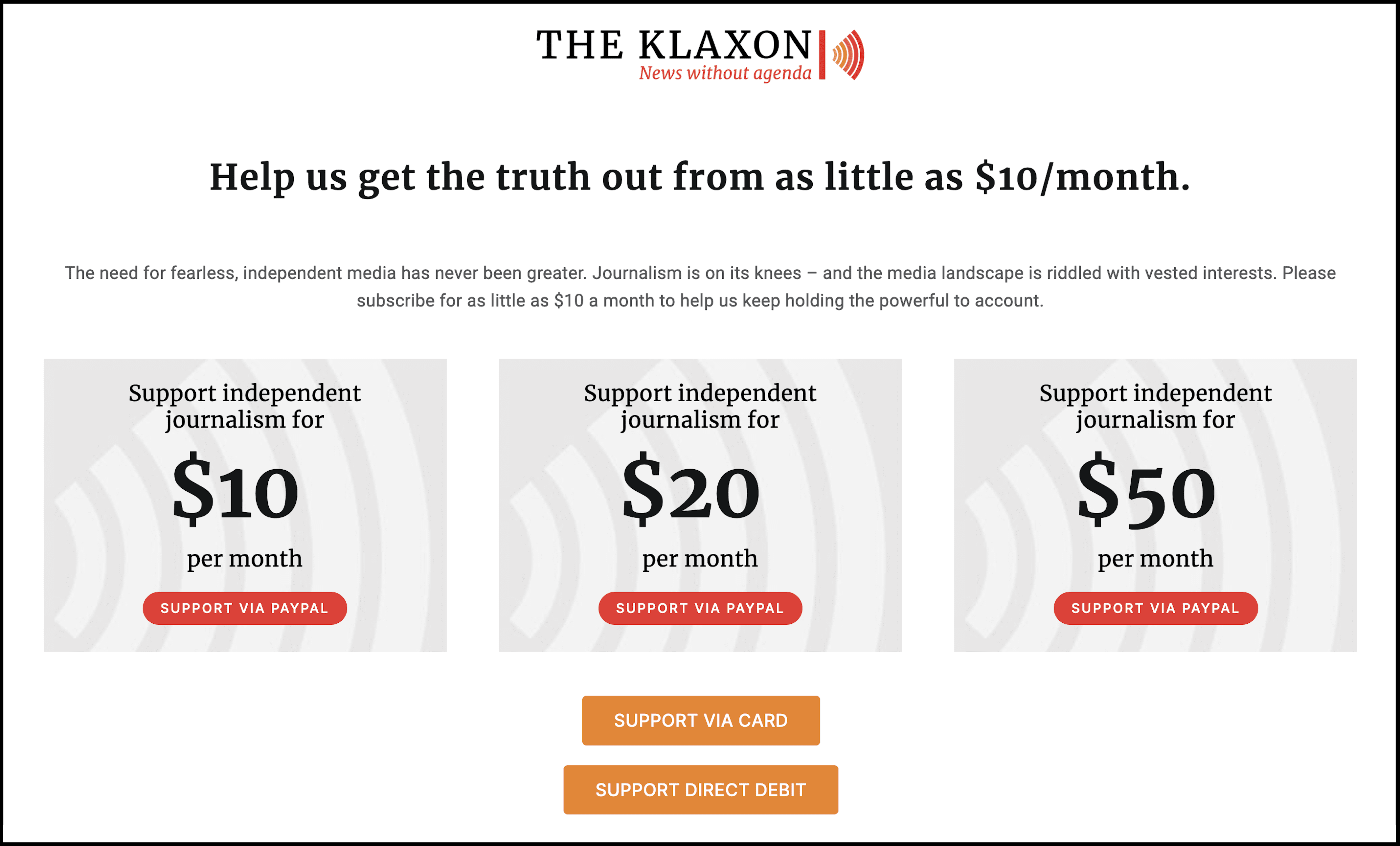 BEFORE YOU GO! Help
us stay afloat and telling these stories. P

lease SUBSCRIBE HERE or support us by making a DONATION. Thank you!
Anthony Klan
Editor, The Klaxon

Help us get the truth out from as little as $10/month.
The need for fearless, independent media has never been greater. Journalism is on its knees – and the media landscape is riddled with vested interests. Please consider subscribing for as little as $10 a month to help us keep holding the powerful to account.