Appreciate our quality journalism? Please subscribe here

Former Federal Treasurer Josh Frydenberg, who covered-up a corruption scandal at the top of the nation's corporate regulator, has been appointed Australian chair of Goldman Sachs, the global investment bank famously known as the "giant vampire squid" for its unethical and rapacious practices.
Goldman Sachs, which Frydenberg joined last year as "senior regional advisor for the Asia Pacific", is the former long-time employer of James Shipton — the corporate regulator boss whose alleged corruption Frydenberg covered-up.
Remarkably, Frydenberg, has said that until now he had been considering attempting a political comeback — despite suffering a devastating and historical loss at last year's federal election, with a massive 9.3 per cent swing against him.
It is the first time in Liberal Party history that it has lost the inner Melbourne seat of Kooyong, with Frydenberg replaced by Independent Monique Ryan, a specialist physician.
Ryan was one of the so-called "teal" candidates, who received campaign funding from Climate 200, a fundraising vehicle created by businessman Simon Holmes-a-Court to level the playing field for independents against the major parties. which receive millions of dollars a year in "donations" from major corporations.
In a letter to Kooyong electorate residents, Frydenberg has said he would not be nominating for Liberal Party preselection for the seat of Kooyong, speculated as the least unlikely route to him being re-elected.
"It is a difficult decision and one I have been weighing up for some time," he said in the letter.
"It was an enormous privilege to serve our local community for nearly 12 years and be the Liberal Party's candidate at the last five federal elections."
Holmes a Court posted to social media that Frydenberg's announcement was likely to cause disappointment.
"More than a few in Kooyong were genuinely looking forward to Josh running again," Holmes a Court said.
"Fundraising and volunteer recruitment (against him) would have been off the charts".
"Fundraising and volunteer recruitment against (Frydenberg) would have been off the charts" – Simon Holmes a Court
Frydenberg's appointment to Goldman Sachs was announced in July last year, just weeks after he was ousted at the May 25 federal election.
Please SUBSCRIBE HERE and support our quality journalism!
That Frydenberg says he was considering attempting a political comeback is particularly remarkable given he has been revealed to have covered-up the findings of a corruption investigation into corporate regulator the Australian Securities and Investments Commission (ASIC).
Despite the scandal costing the jobs of ASIC chair Shipton and deputy chair Daniel Crennan, Frydenberg in January 2021 released the "findings" of an "independent review" he had commissioned from private company CPM Reviews and announced it had cleared Shipton of any wrongdoing.
Yet as revealed by The Klaxon, the document released by Frydenberg was not the actual findings, it was instead a report "prepared by Treasury", from which three of the four key findings, all relating to Shipton, had been secretly removed.
The only key finding left in related to one specific instance where CPM Reviews author Dr Vivienne Them considered Shipton had not engaged in wrongdoing.
As previously revealed, Them resigned from CPM Reviews, where she had worked for several years, almost immediately after Frydenberg released the doctored version of her report.
Frydenberg has been refusing to respond to The Klaxon's requests for comment regarding his cover-up of the ASIC scandal for the past two-and-a-half years.
No other politician or public figure — including the current executive at ASIC, CPM Reviews, or the report's author Dr Vivienne Them — has backed up Frydenberg's claims Shipton was found to have engaged in no wrongdoing, despite many approaches by The Klaxon.
As ASIC chair, Shipton paid himself more than he was legally entitled to, illegaly charging taxpayers $118,000 for "personal tax advice" provided to him by "Big Four" consultancy KPMG.
He was appointed ASIC chair in November 2017 and was ousted just halfway though his term.
Shipton had previously held senior roles with Goldman Sachs, including as a managing director of its "Asian Executive Office" and, from 2009 to 2013, as head of "Government & Regulatory Affairs" for Goldman Sachs Asia Pacific, based in Hong Kong.
During that time Goldman Sachs became embroiled in one of history's biggest scandals, the disappearance of billions of dollars from 1MDB, Malaysia's sovereign wealth fund.
Shipton has said he was not connected to the scandal.
Goldman Sachs has been involved in multiple corruption scandals around the world and was in 2009 famously nicknamed the "great vampire squid" over its role in the Global Financial Crisis.
Despite the seriousness of the Treasurer of Australia covering up the findings of a corruption probe into the nation's corporate regulator — responsible for policing the nation's entire corporate sector — almost no other media has covered the major story.
Many have even repeated Frydenberg's false claims the ASIC review had cleared Shipton of wrongdoing.
None of those media outlets has yet corrected the errors, which fundamentally misrepresent the biggest scandal to rock ASIC in its 30-year history.
Frydenberg had been touted — by those same major media outlets — as a future Prime Minister.
Last year most editorialised in favour of Scott Morrison's Coalition being re-elected.
That's despite it being one of, if not the most, corrupt governments in Australian history.
The Coalition came to power in 2013. Between 2012 and 2022 Australia fell faster into corruption than any other OECD nation other than Hungary, with which it tied, according to highly regarded global anti-corruption group Transparency International.
Last year it emerged that while Prime Minister Scott Morrison had secretly appointed himself to five ministerial positions, without telling the public or allegedly even his own government.
Between 2013 and 2022 Frydenberg held a string of top government positions including Assistant Treasurer, Minister for Energy and the Environment, and, from August 2018, Federal Treasurer.
He was the architect of the JobKeeper Covid-19 stimulus program, which has been called one of the biggest of wastes of money in Australia's history, with at least $38 billion dollars of taxpayer funds to companies that didn't need it.
Please SUBSCRIBE HERE and support our quality journalism!
Dr Andrew Schmulow, an Associate Professor at the University of Wollongong and one of the nation's top corporate governance experts, told The Klaxon Australia was suffering from "crony capitalism", with government and business corruption soaring in recent years.
Greatly exacerbating the situation is the fact Australia suffers from one of the world's most concentrated media landscapes, with around 70 per cent of all newspapers by audience owned by the one company.
"Press freedom is fragile in this island-continent of 26 million people, where ultra-concentration of media ownership, combined with growing official pressure, endanger public-interest journalism," says global journalism group Reporters Without Boarders.
According to respected political analyst group They Vote For You, while in parliament Frydenberg voted "consistently against"; a "fast transition from fossil fuels to renewable energy"; "ending illegal logging",; "removing children from immigration detention"; "increasing the diversity of media ownership"; "increasing political transparency" and against "considering legislation to create a federal anti-corruption commission".
Frydenberg "voted consistently for": "increasing or removing the Government debt limit"; "increasing the cost of humanities degrees"; "putting welfare payments onto cashless debit cards (or Indue cards)"; and "reducing the corporate tax rate".
In the final days of his tenure as Treasurer, Australia's national debt hit a record $909.6 billion.
At the Aston by-election in April Frydenberg emerged to endorse Liberal cabdidate Roshena Campbell, who had been tipped to win the Liberal heartland seat.
Campbell lost to Labor's Mary Doyle – the first time a government has won a byelection from an opposition since 192o.
BEFORE YOU GO! Only 1% of our readers currently contribute.
P

lease SUBSCRIBE HERE or support us by making a DONATION. Thank you!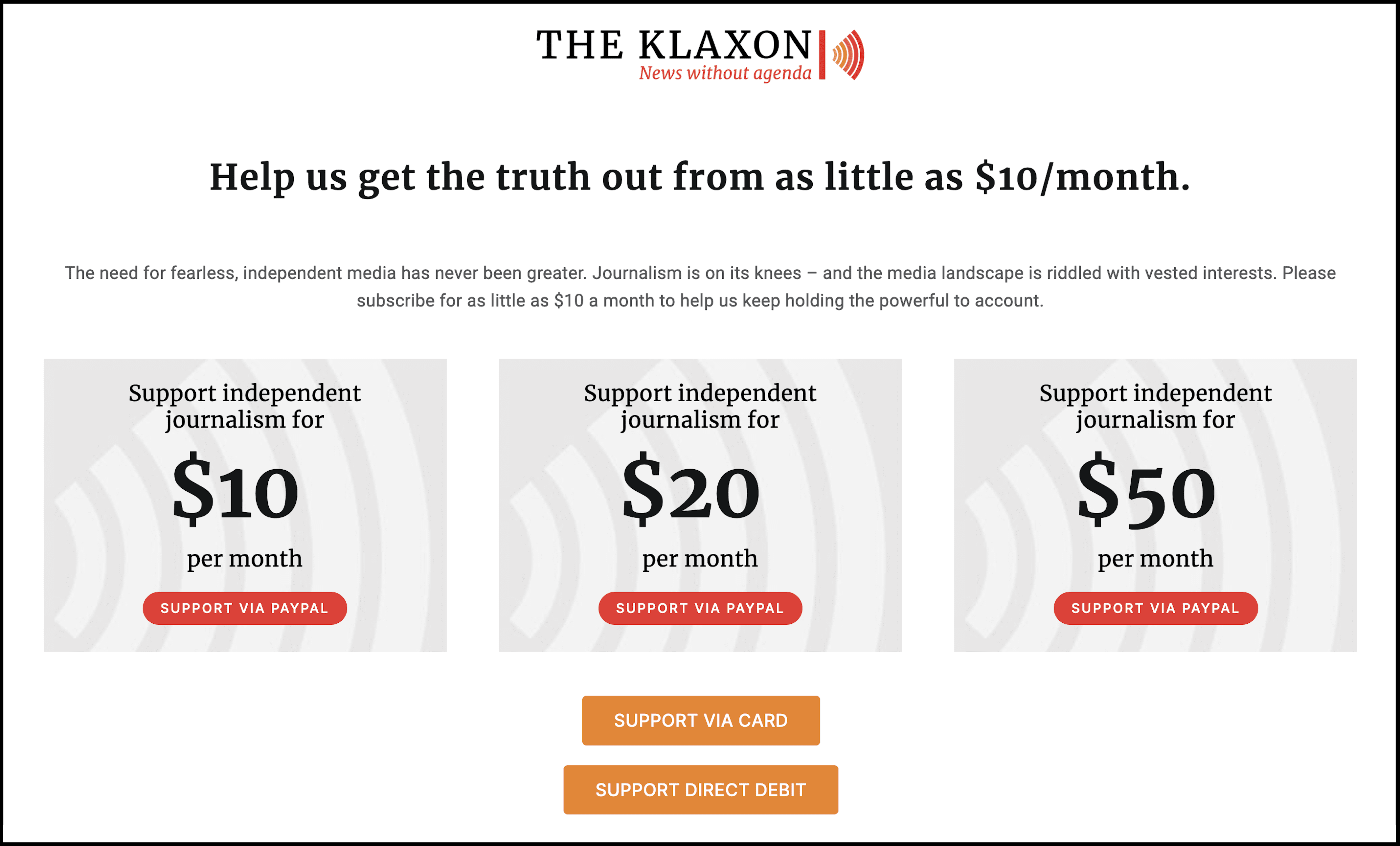 BEFORE YOU GO! Only 1% of our readers currently contribute.
P

lease SUBSCRIBE HERE or support us by making a DONATION. Thank you!
Anthony Klan
Editor, The Klaxon

Help us get the truth out from as little as $10/month.
The need for fearless, independent media has never been greater. Journalism is on its knees – and the media landscape is riddled with vested interests. Please consider subscribing for as little as $10 a month to help us keep holding the powerful to account.