Appreciate our quality journalism? Please subscribe here

EXCLUSIVE
Prime Minister Anthony Albanese is refusing to say whether he's failed to disclose around $100,000 worth of memberships to the now infamous Qantas Chairman's Lounge, as his government reels amid allegations of dodgy dealings favouring the airline.
The Klaxon can reveal Albanese and his advisors have been avoiding for more than three years the question of an unusual absence — for almost a decade — of Qantas Chairman's Lounge disclosures in the now Prime Minister's pecuniary interests filings.
Albanese disclosed having received a complimentary Qantas Chairman's Lounge membership — which are for two years and valued at around $10,000 a year — after the 2019 election.
Yet from at least 2010 to 2019, during which time Albanese made scores of disclosures on the parliamentary register, there is no mention of Qantas having given him any memberships to its hyper-exclusive, invitation-only Chairman's Lounge.
That's despite Qantas offering the memberships to all Federal MPs, and the vast majority of them disclosing having taken up the complimentary memberships — which are legal but must be properly disclosed.
Please SUBSCRIBE HERE and support our quality journalism!
Those opulent "gifts" are required to be disclosed to prevent corruption, real or perceived.
Albanese, who came to power on a platform of accountability and transparency, refused again yesterday to say whether he had been given Qantas Chairman's Lounge memberships for most of the last decade.
The period in question includes when Albanese was deputy Prime Minister in the Gillard and Rudd government (2010 to 2013) and for the six years he was Federal Opposition transport spokesman (2013 to 2019).
This reporter asked Albanese and his advisors whether Albanese had been given any Qantas Chairman's Lounge memberships before 2019, given none had been disclosed.
Albanese spokesman Matthew Franklin initially promised to told us he would come back to us with a response.
Yet we heard nothing back, despite multiple follow-up queries.
That was three-and-a-half years ago.
Albanese and his office also refused to respond when we put the questions to them again yesterday.
The Department of Prime Minister and Cabinet (PM&C) yesterday confirmed the Prime Minister's office had received our questions.
Please

SUBSCRIBE HERE

and support our quality journalism!
The revelations come as Albanese this week dodged questions in Federal Parliament whether he or his office directed or provided advice to Transport Minister Catherine King to block a bid by Qatar Airways to double its flights to Australia.
The Federal Government is embroiled in scandal for rejecting the Qatar Airways bid, which the Federal Coalition and some experts claim was a "sweetheart deal" to commercially benefit Qantas.
King has denied the claims, but the scandal remains ongoing and a Senate inquiry has been launched.
The scandal saw the early departure of long-time Qantas CEO Alan Joyce this month, two months earlier than expected, after 15 years in the role.
Yesterday Qantas and its board were hit with another major blow, with the High Court ruling against the airline, agreeing with earlier findings that its sacking of almost 1700 workers amid the Covid-19 pandemic was illegal.
The action was brought by the Transport Workers' Union (TWU), which won the case in 2021.
Qantas last year lost an appeal to the full Federal Court, and has not lost a last-ditch appeal to the High Court.
The TWU has called for an overhaul of the Qantas board over the handling of the affair.
Qantas was given $2.7bn in taxpayer funds amid the pandemic, including almost $900 million in JobKeeper.
Yet despite mass sackings and plummeting consumer satisfaction, the airline has for years been handing Joyce eye-watering, multi-million dollar pay packets.
MPs are required to submit a list of their pecuniary interests at the start of each new Parliament (after each federal election).
They are then required to update the register with any reportable changes, including any gifts from "official sources" (such as visiting foreign dignitaries) worth more than $750, or more than $300, if they come from any other sources.
Qantas does not sell Chairman's Lounge memberships, but David Flynn, editor of Australian Business Traveller, has estimated they are worth about $10,000 a year.
In 2010, 2013 and 2016 Albanese has written "Nil" when asked whether he has received any gifts that meet the criteria.
He has made multiple updates to those filings, but no mention is made of any Qantas Chairman's Club memberships.
In 2019 Albanese reported having received a Qantas Chairman's Club membership, yet he improperly disclosed it under "memberships" – and again entered "Nil" when asked if he had received any gifts meeting the disclosure requirements.
None of Albanese's updates to the register since mentions the Qantas Chairman's Club.
More to Come….
Do you know more? anthonyklan@protonmail.com
BEFORE YOU GO! Only 1% of our readers currently contribute.
P

lease SUBSCRIBE HERE or support us by making a DONATION. Thank you!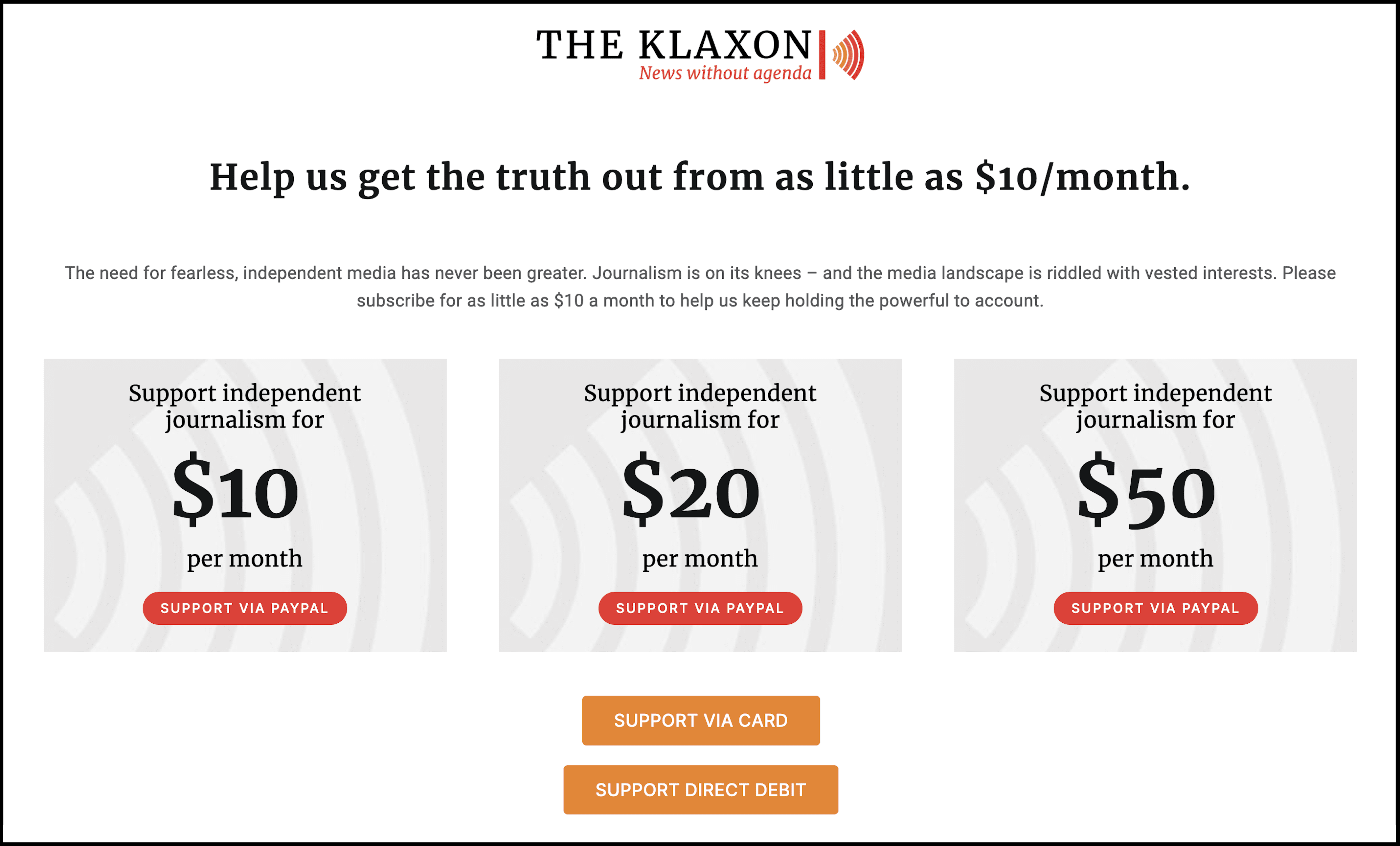 BEFORE YOU GO! Only 1% of our readers currently contribute.
P

lease SUBSCRIBE HERE or support us by making a DONATION. Thank you!
Anthony Klan
Editor, The Klaxon

Help us get the truth out from as little as $10/month.
The need for fearless, independent media has never been greater. Journalism is on its knees – and the media landscape is riddled with vested interests. Please consider subscribing for as little as $10 a month to help us keep holding the powerful to account.