Appreciate our quality journalism? Please subscribe here

A Federal Indigenous agency set up by the Morrison Government days after the 2019 election — and used to promote a Voice to Parliament before a spectacular backflip — has since given PwC "Indigenous Consulting" over $16 million.
Investigations show the little-known National Indigenous Australians Agency (NIAA) is the biggest Federal funder of disgraced consultancy PwC's "Indigenous" arm — giving it 27 contracts totalling $16.3m since the 2019 federal election.
It can also be revealed the NIAA is the first Federal agency to give a contract to a PwC entity since a widely reported government "clampdown" over the PwC tax scandal in May.
On May 23 — four days after the "clampdown" on May 19 — the NIAA gave PwC's Indigenous Consulting a $745,292.57 contract for "strategic advice review services", government filings show.
As revealed by The Klaxon last week, "PwC's Indigenous Consulting" — which provides "advice to government" on "Indigenous matters" — is receiving millions of dollars a year in Federal contracts.
By value, almost two-thirds of those contracts over the past four years have come from the NIAA — including a monster $10.2m contract for "training and development services" in April last year, investigations show.
Please SUBSCRIBE HERE and support our quality journalism!
The NIAA was created on May 31, 2019, a week after that year's federal election, to ensure Indigenous Australians "have a say in the decisions that affect them", with a "vision to ensure" Indigenous Australians "are heard, recognised and empowered".
Days later its minister, then Indigenous Minister Ken Wyatt, told the National Press Club in Canberra "the Morrison Government is committed to recognising Indigenous Australians in the constitution" and "working to achieve this through a process of true co-design".
He confirmed all options in constructing a Voice to Parliament would be considered — specifically confirming the option of including a Voice to Parliament in the constitution.
Yet in a spectacular backflip just weeks later — reportedly following "backgrounding" of journalists by then Prime Minister Scott Morrison's office rebutting Wyatt — Wyatt then ruled it out.
"I want to be very clear — the question we put to the Australian people will not result in what some desire, and that is an enshrined Voice to Parliament," Wyatt said.
There remains no constitutional Voice to Parliament — the Albanese Government last week set October 14 for a national referendum on the matter.
Yet in the interim, "PwC's Indigenous Consulting" — which provides "advice to government" and "aims to be an emblem for Indigenous self-determination" — has made millions.
Please SUBSCRIBE HERE and support our quality journalism!
Created in 2013 under then PwC Australia CEO Luke Sayers, PwC's Indigenous Consulting's first recorded Federal contract was for in June 2015 from the Department of Prime Minister & Cabinet for $185,555 for "specialist technical advice".
Since then, contracts to PwC's Indigenous Consulting have soared.
Filings with government register AusTender show it has been given $44.67m in reportable Federal Government contracts — hitting a record of $13.78m in 2022.
The more than 100 contracts and contract "amendments" (the price is almost always "amended" upwards) are from 19 Federal departments and agencies.
They include $8.70m in contracts from the Department of Education; $3.68m from the Australian Taxation Office (ATO); $5.39m from the Department of Social Services; $220,000 from Austrade; $510,953 from the Department of Infrastructure and $1.16m from the Department of Treasury.
As previously revealed, PwC's Indigenous Consulting has been given dozens of "limited tender" contracts totalling $10.03m on grounds it is a "SME (small-to-medium enterprise) with at least 50 percent Indigenous ownership.
The consultancy giant has said PwC's Indigenous Consulting "is not part of PwC Australia" and "it is its own entity".
Searches show PwC's Indigenous consulting is 51 per cent owned by a private company called MAAR Investment Holdings — and 49 per cent by PwC Australia.
Please SUBSCRIBE HERE and support our quality journalism!
PwC has been caught selling confidential Federal Government data for millions of dollars to multinationals seeking to avoid Australian tax.
The consultancy gleaned the information while PwC partners — after signing confidentiality agreements — were providing "advice" to government on new laws to stop multinationals avoiding Australian tax.
The Federal Government has come under extreme pressure over the PwC tax affair, including over a perceived failure to act.
On May 19, in what has been reported as an "effective ban" on PwC, the Department of Finance issued a new "procurement policy note" to federal agencies.
It was to "remind" them they "must" consider the "performance history" of potential suppliers, including "any unethical behaviour" and any "failure of the tenderer to abide by substantive requirements such as confidentiality provisions".
The NIAA told The Klaxon the $745,292.57 contract it had given to PwC's Indigenous Consulting on May 23 was to "review" the "service delivery impacts" of some programs that had been funded under the Indigenous Advancement Strategy (IAS).
The Indigenous Advancement Strategy distributes grants and funds for Indigenous programs and in 2021-22 the Morrison Government gave it $5.7 billion to be delivered over four years.
NIAA public affairs director Sonia Singh told The Klaxon the NIAA "entered into a contract on 23 May 2023 which is compliant with relevant rules and guidelines".
"The decision to engage PriceWaterhouseCoopers Indigenous Consulting was made on 8 May 2023," Singh said.
Regardless of when the "decision" to enter the contract with PwC's Indigenous Consulting was made, the contract was entered into on 23 May — which was four days after the Department of Finance warning.
Singh said the NIAA was "reviewing its practices".
"Along with other organisations across government, the NIAA is reviewing practices to make sure that ethical considerations is (sic) taken into account before future contracts are entered into," said Singh.
The NIAA provided that response to The Klaxon in June, but it is being reported now for the first time.
Searches show the NIAA has given a second contract to PwC Indigenous Consulting since the clampdown.
On Wednesday last week AusTender was updated to show PwC's Indigenous Consulting had been given another Federal contract.
It has been given a $91,982 contract with the description provided simply: "stakeholder engagement and consultation services".
The contract was awarded by the NIAA.
BEFORE YOU GO! Help
us stay afloat and telling these stories. P

lease SUBSCRIBE HERE or support us by making a DONATION. Thank you!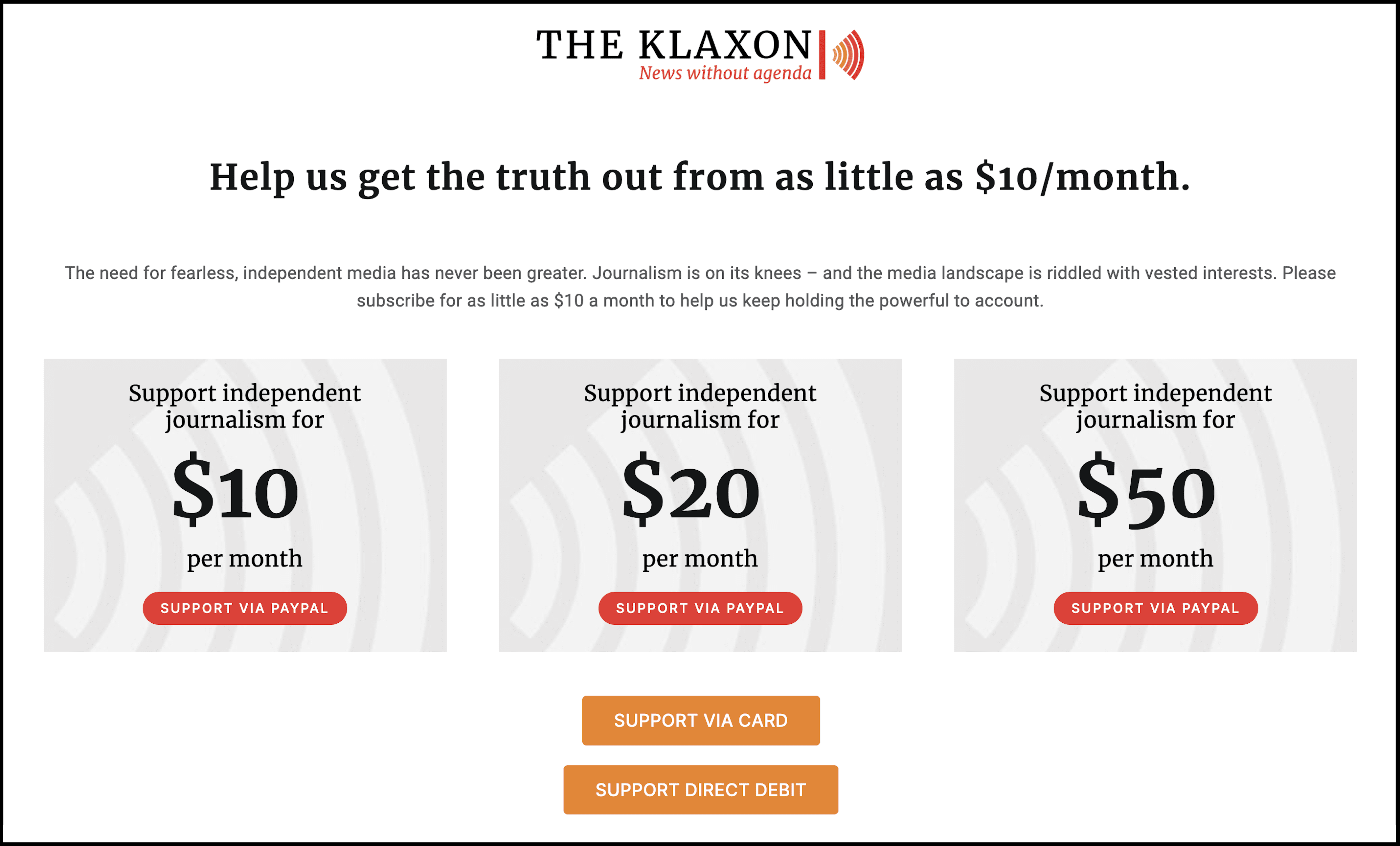 BEFORE YOU GO! Help
us stay afloat and telling these stories. P

lease SUBSCRIBE HERE or support us by making a DONATION. Thank you!
Anthony Klan
Editor, The Klaxon

Help us get the truth out from as little as $10/month.
The need for fearless, independent media has never been greater. Journalism is on its knees – and the media landscape is riddled with vested interests. Please consider subscribing for as little as $10 a month to help us keep holding the powerful to account.