Appreciate our quality journalism? Please subscribe here

Former PwC Australia CEO Luke Sayers — who publicly spruiks "transparency" and "accountability" and is the president of the Carlton Football Club — has allegedly made false statements about his involvement in the tax leaks scandal.
The Australian Taxation Office has revealed it told Sayers in August 2019 he should "personally review the internal emails" — in one of at least three meetings held between him and the ATO's second-in-charge, Jeremy Hirschhorn.
The explosive revelations are despite public claims from Sayers that he was "not aware of the confidentiality issues that have since emerged within the international tax practice at PwC".
Those claims from Sayers are despite him having been PwC Australia CEO from 2012 to mid-2020 — and so in charge at all relevant times of the tax leaks affair.
The ATO has provided the Senate with a 13-page "timeline" in relation to the scandal, made public last night, that reveals Hirschhorn also met with Sayers in February and April of 2020.
PwC has been caught selling top-secret government data to multinationals seeking to rip-off Australians by avoiding corporate tax, with revelations dozens of PwC bosses and staff worldwide were aware of the illegal activity, spanning back to 2014.
The scandal became public in January this year.
On May 2 the scandal erupted further when a heavily redacted 144-page cache of internal PwC emails was made public by the Senate inquiry into consultancies.
The emails, from 2013-18, showed dozens of PwC partners and staffers across the globe discussing and sharing secret Australian Government tax policy information.
The ATO's "timeline" states: "29 August 2019 — Jeremy Hirschhorn [Second Commissioner, ATO] meets with Luke Sayers [CEO,PwC]".
"Senior Commissioner suggested to CEO to personally review the internal emails".
"Senior Commissioner suggested to CEO to personally review the internal emails" – ATO
At a face-to-face meeting on February 20, 2020, the timeline shows, Hirschhorn told Sayers PwC needed to be "fully abreast" of its concerns.
"The PwC Board should ensure that it is fully abreast of the range of concerns the ATO has had with PwC Tax Group behaviour," the ATO says Hirschhorn told Sayers.
On 23 April 2020 a meeting – the contents of which are not disclosed – was held between Hirschhorn, Sayers and "PwC Consulting Leader" David McKeering, who had been "put forward as a direct point of contact" to PwC's board.
For months Sayers refused to comment on the major scandal.
On June 2 he told media: "If requested, I look forward to engaging with any Senate inquiries or AFP process".
On June 21 the Senate inquiry into consultancies — headed by politicians of all major political parties — released a highly-damning report that found PwC Australia had engaged in a multi-year cover-up of the scandal.
The interim report, called "PwC: A calculated breach of trust", said PwC engaged in a "deliberate strategy" over "many years" to cover up the tax leaks affair.
"It stretches credulity that the senior leadership of PwC were ignorant of all this," the report says.
A substantial part of the cover-up by PwC Australia involved its refusal to provide the ATO with "tens of thousands" of documents, which PwC had falsely claimed were covered by lawyer-client privilege.
In response Sayers said he had not been "aware of the confidentiality issues".
"Mr Sayers, who was elected Australian CEO by his fellow partners, was not aware of the confidentiality issues that have since emerged within the international tax practice at PwC," said a spokesman for Sayers in a statement to media.
The spokesman said Sayers had only been mentioned "once" in the report, noting he was "the former CEO of PwC".
The actions of Sayers since the scandal broke have contrasted with many public statements he has made over many years regarding "transparency" and "accountability".
"Organisations need to be much more articulate and transparent of their rights, their wrongs, and their ill-doings," he says in one video while PwC Australia CEO.
"Transparency…is just so pivotal" — Luke Sayers
"(For) any improvement in societal trust, I think that transparency piece is just so pivotal.
"If we can't fall on our sword if we've screwed up…then you're not going to bridge that trust divide," says Sayers.
The latest revelations raise serious questions over Sayers' tenure as president of the AFL's Carlton Football Club.
They also raise yet more serious concerns over Sayers Group, the PwC-style "consultancy" Sayers set up in 2020 after leaving PwC.
As revealed by The Klaxon in May, Sayers Group had been given $6.2 million in taxpayer funds in just two years, receiving 17 Federal Government contracts since April 2021, totalling $6,262,007.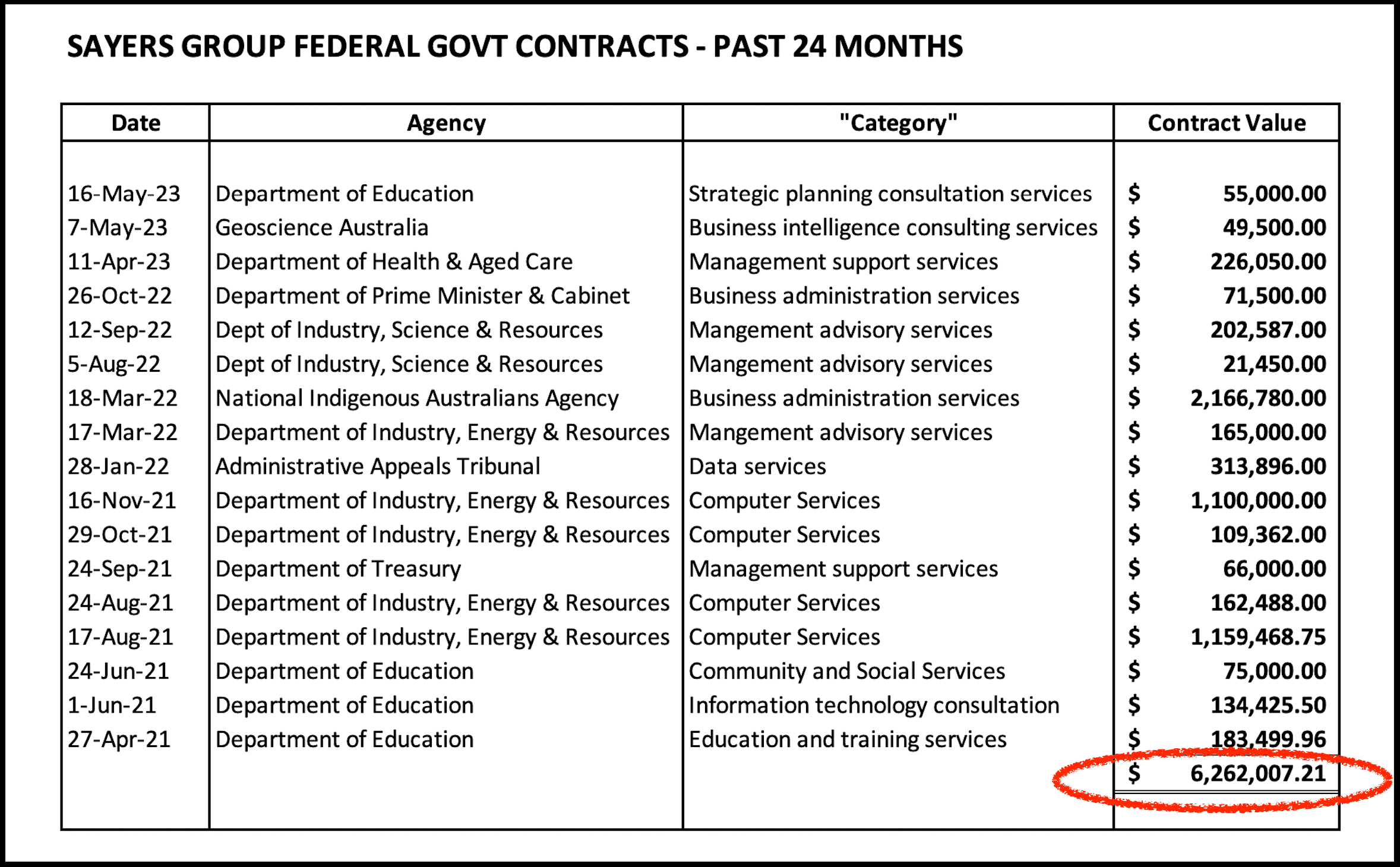 On June 27 The Klaxon revealed Sayers had exited as chair of Inclusion Foundation, a charity he runs with his wife Cate Sayers (centre in image at top), that provides dance programs for people with disabilities.
In bombshell revelations just weeks out from last year's May federal election, it emerged Cate Sayers and then Guide Dogs Victoria CEO Karen Hayes had appeared in advertisements spruiking then Coalition Federal Treasurer Josh Frydenberg for re-election.
It is illegal for charities to endorse politicians or political parties.
Both women appeared in the political advertisements, which were officially authorised by Frydenberg, under the heading "Why I am voting for Josh Frydenberg".
Hayes appeared as "CEO, Guide Dogs Victoria" and Cate Sayers appeared in as "Founder, Inclusion Foundation".
When the scandal broke Frydenberg was forced to pull the ads, which appeared online and on flyers distributed in his then electorate of Kooyong in inner Melbourne.
The board of Guide Dogs Victoria almost immediately "stood down" Hayes, announced it had not authorised her to appear in the advertisements, ordered the ads be pulled, and launched an investigation.
Hayes was subsequently forced to resign from the charity, after ten years at its helm.
As previously revealed, by contrast, Cate Sayers received the all-clear over the affair — from her husband.
Luke Sayers, as charity chair, wrote to members declaring his wife had engaged in no wrongdoing.
He provided no evidence to back the claims.
The Sayers, who live in a $15 million mansion in Melbourne's Hawthorn East, have made a private fortune on the back of the Australian public — first via PwC, then the Sayers Group.
The couple's 19th Century manor, "Strathner", is "clearly one of Melbourne's most significant estates", says one luxury real estate agent.
Documents filed with the Australian Charities and Not-for-profits Commission show Inclusion Foundation, is a major recipient of taxpayer cash.
As previously revealed, in the 2021-22 financial year the charity received $933,986 in government grants, which was over six times higher than its average over the preceding decade.
How much of the $933,986 came from the Federal Government is not known because Inclusion Foundation has not reported that information in its financial statements.
BEFORE YOU GO! Help
us stay afloat and telling these stories. P

lease SUBSCRIBE HERE or support us by making a DONATION. Thank you!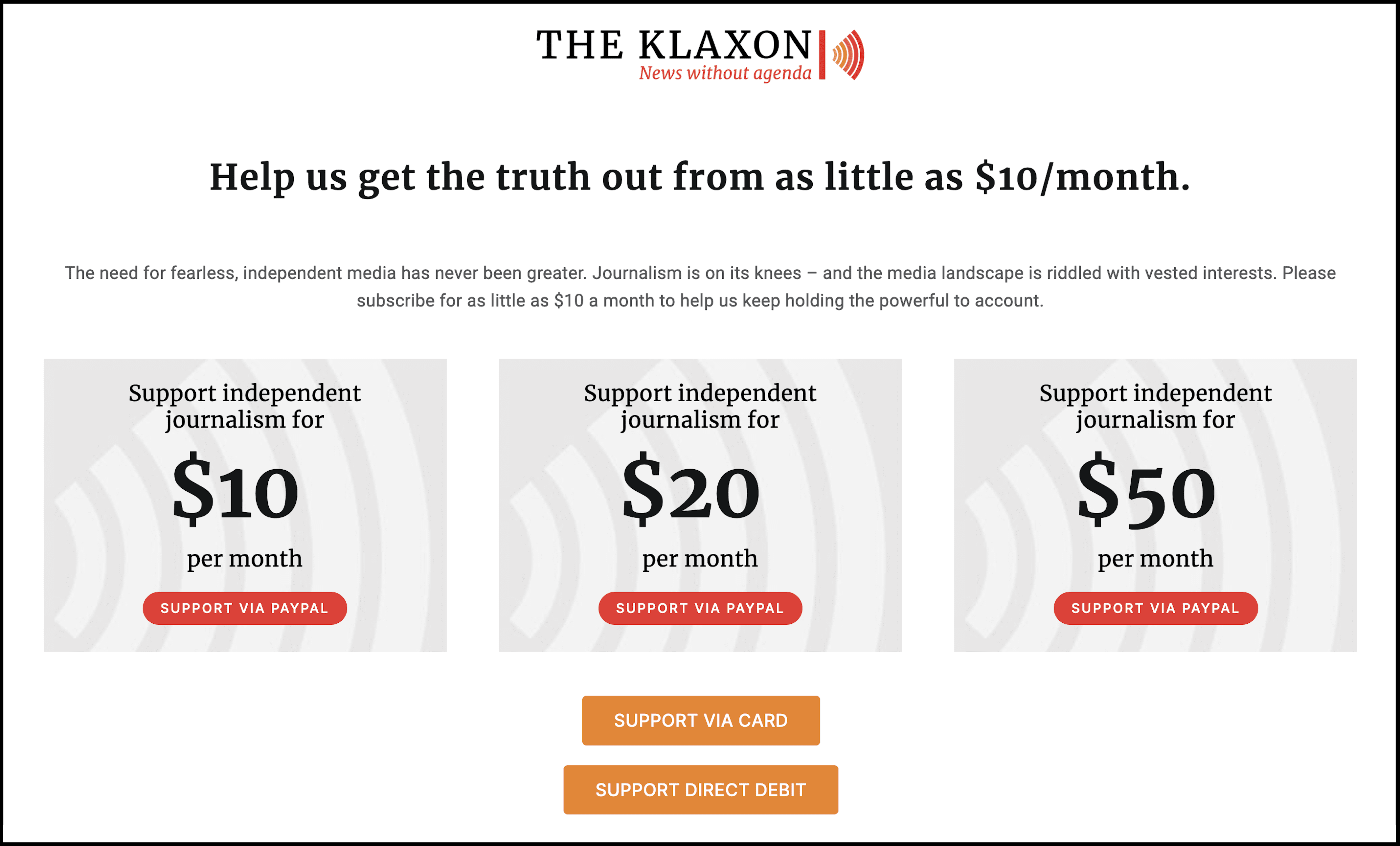 BEFORE YOU GO! Help
us stay afloat and telling these stories. P

lease SUBSCRIBE HERE or support us by making a DONATION. Thank you!
Anthony Klan
Editor, The Klaxon

Help us get the truth out from as little as $10/month.
The need for fearless, independent media has never been greater. Journalism is on its knees – and the media landscape is riddled with vested interests. Please consider subscribing for as little as $10 a month to help us keep holding the powerful to account.